Couture Felt Off This Time
Some quick thoughts on another fashion spectacle that starred Kim Kardashian. At least we also had Valentino.
Thank you for subscribing to Back Row, the fashion and culture newsletter that says things advertising-supported publications can't. If you are new here, please subscribe to get more posts like this sent to your inbox around twice a week.
I am on vacation with my family this week and will hopefully be back to my regular posting schedule next week. (My plans are unclear due to travel disruptions.) In the meantime, I wanted to send a short post about couture, which felt, with some exceptions, unfortunately meh. And I was ready for couture to be an escape — I was ready for it not to be meh!
As I write this, four recent Vogue newsletter subject lines in my inbox read: "Tour de Force Couture From Demna at Balenciaga"; "Nicole Kidman Shuts Down Balenciaga's Runway With an Extreme Beauty Look"; "Savoir-Faire and Effortless Grace at Chanel Haute Couture"; "Keira Knightley Is Back on the Front Row in the Perfect LBD." So there you have it: Balenciaga showed couture, Nicole Kidman wore eyeliner, Chanel showed couture, and Keira Knightley wore a black dress. The couture season distilled as only a legacy advertiser-supported publication can.
However, there was something actually interesting about these shows, but it wasn't the clothes or who wore the clothes. I tapped through the collections on the Vogue Runway app. I usually enjoy taking in the world's finest fashion, handmade by the best of the best for the wealthiest of the wealthiest. I normally don't think much, if at all, about the couture customer when I look at these collections. The woman in the stratosphere of people who live nowhere because they have houses everywhere and traveling between them is easy. However, this time I couldn't help but consider this person, who would never be burdened by something as mundane as high gas prices. I also have a hard time imagining this woman getting excited by Kim Kardashian doing anything. Yet why else would she have been hired to model in the Balenciaga show, if not to either give us all something to talk about or something to covet? Her presence was one reason the Balenciaga couture collection felt like more of the same from Demna Gvasalia, one of the best fashion marketers of the past decade whose other recent runway show evoked the war in Ukraine. But that wasn't the only reason seeing videos of Kardashian model in the show on social media made me feel dead inside.
Elsewhere in Paris, Giambattista Valli's couture reminded me of an overdone wedding cake. I normally enjoy this show, but I found the excessive frippery somehow depressing this time. Speaking of overdone, Schiaparelli stands out in an Instagram feed, but I fail to understand its appeal otherwise. The shows that were more restrained — like Chanel and Christian Dior — felt more appropriate for the moment, but also are never the theme-park fantasy the masses desire and expect from couture. For pure modern beauty, we can look to Valentino, where some of the looks were so lovely I found myself sighing. (And I say that as someone who hates buying into hype.)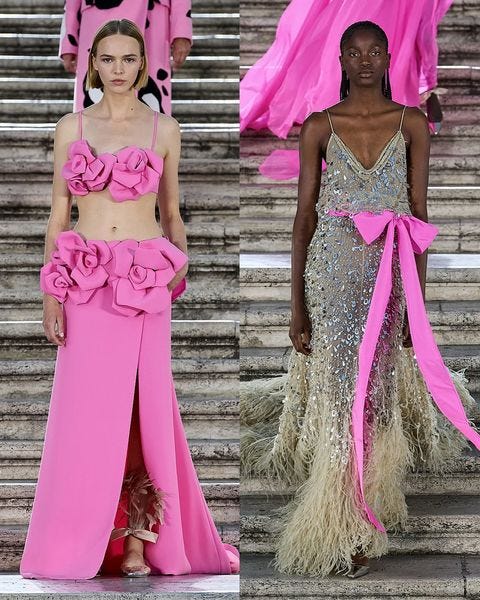 When this season's couture collections were conceived, some designers likely had visions of brighter days ahead, a world without a pandemic where parties raged like the before times. I wouldn't blame them for predicting that at this point, the world would be one with more freedom. However, freedom is hideously slippery these days. In the United States, access to abortion will be out of reach in around half of states. What could have been interesting about couture this time was how it would respond to everything else butting up against it in a news feed. And if it wasn't responding, would it be wonderful enough to make us forget the things from which we want to escape?
The fashion industry, which in recent years saw fur banned at major retailers and labels eager to cite sudden concerns over "animal welfare," has had a less than inspiring response. Much think piece-ing and podcasting has been done over "what the corporate response should be" regarding Roe Vs. Wade being overturned. There is no answer to that question on which everyone will agree, but at the least I would hope that the women-driven, women-supported fashion industry would be able to mount a response as newsworthy and meaningful as its recent swearing-off of fur.
The whole point of fashion is to sell us a dream, but the dream exists because customers believe that we can somehow get from here to Kim Kardashian's world, in which Balenciaga is everyday clothing. And how nice would that be? The woman who wears $3,000 high-heeled leggings isn't pinching pennies to fill up her Honda Civic. But when politics calcify the divide between the masses and someone like Kardashian (or her fellow runway models Nicole Kidman and Dua Lipa), it's harder to buy into that dream. Fashion and its rich customers are over here, the rest of us are over there. One group is seen, the other does the seeing. Instead of aspiring to dress like that, many of us will be left wondering what is here for us to care about. Fashion doesn't work if customers view aspiration as a scam.
Recently in Back Row:
How Nike, Gap, and Victoria's Secret Profits Indirectly Support Anti-Abortion Politicians
Beyoncé, Edward Enninful, and Anna Wintour
Fashion Finally Has the Upper Hand with Mark Zuckerberg
Subscribe to Back Row to get more posts like this sent to your inbox around twice a week.